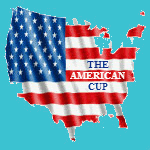 RECAP: ROUNDING OUT THE TOP 5
02/27/2016
THE AMERICAN CUP
From Lady Liberty, to the Seattle Space Needle, from the Lone Star State to the Cheese Head State, from Key West to Monterey Bay, we bring you the best of the short horses to show their talent and to prove that they too are the best of the best. This season 34 field may just be the best one assembled to date. We have seen some of the best short runners of all-time run in this race over the seasons, and it look like we have at least 4 or 5 future Hall Of Famers in this one.
Comments:  2 time World Cup Champion and Sprinter Shield winner Seething Rain come into this final on a 7 race winning streak, but what is most impressive is this 9yo mudlark mare out of Woogle Wood Stables has a career total of 35 races and out of 35 races she has 32 wins. Only 3 loses in her illustrious career that is very impressive. It's a no brainer that she will be the odds on favorite to bring home the American Cup.
Comments: 3 time World Cup Champion Hilikus Coop, hails out of the legendary Manor Park Stud, might be entering the finals for the first time as an underdog. The 8yo stallion is more then capable of winning this race but is facing some season veterans. One thing for certain, if the top choice don't bring her A+ game, it is well documented that owner Manor Park know how to win on the big stage.
Comments: Live And Let Die was purchased just less than a month ago for over $5 million dollars by one of the best trainer in the game Dr. Stables owner Inca57. His new owner is still trying to get to know the horse and figure out what this 9yo stallion mudlark can do. But if there is one person who can break the code on this horse, Inca57 is the right trainer for the job.
Comments: Riddley Walker Racin  enters the race with 10yo stallion mudlark Sphinx. After winning the 3yo Breeders Cup Short, Sphinx has been racing in stakes and league races for most of his career and also been used as a stud. This horse has an impressive career record of 43 races entered, 33 wins and 42 top 5 finishes. One of the things that stands out is Sphinx has ran some really good times and may be the most dangerous short runner in this race. 
Comments: Last season American Cup Champion Yabooty Highlight enters the race to defend his crown. This 10yo competitive stallion has been sort of an enigma for Whispering Death Stable, with a win, lose win, lose, win, lose, pattern, so with the bright lights shining brighter than ever will this race be the one he win again?
Comments: With the name Morpheus, the question should be since Morpheus like to hand out a red pill, or a blue pill, maybe he should take a white pill and that will give him the American Cup. The 8yo mudlark stallion have a world cup under his belt winning the Emerald Shoe several season back, and has been a very consistent runner finishing in the top 5 in his past 11 starts.
SUMMARY:
Here is what we do know, this is probably one of the best, if not the best field assembled in the history since the American Cup was introduced to Track King. This race has 5 world cup runners in it which I don't think we have ever seen a field with that many cup winners, and horse from the age of 8yo to 10yo that are so close in stature with overall rating and experience. With the great stables assembled in this race they have a combine total of 180 world cups victories. (180, incredible right!)
Anyone of these top six runners, Seething Rain, Hilikus Coop, Live And Let Die, Sphinx, Yabooty Highlight, and Morpheus, are very well capable of winning this race. Seething Rain, look like a world beater right now, and if I had to guess will be the one to beat. If she not on top of her game any of the other five can cross the wire first, this is truly a competitive field, small but competitive.
But the thing we love about Track King is when you think you might have all the answers, something else can always happen.
View the field on Track King here