Welcome back for part 2 of the one on one interview with Inca57. Right now I would like to look at your stable from the early days to what we see today.
Q: Your stable took no time at all to win your first cup a regional classic all up 58 days that must of been a great highlight early on
It was the Class 5 Classic Cup. That was the first cup I entered, so it felt great winning. It took hours to get my heart rate back to normal. It was with No Shadow, a horse I bought a few weeks early.
Q: Your first WC had some familiar stables such as Snowey Champ, Willow Elite, the 2yo Limited Breeders, do you remember much about that first success and did that set the blueprint for the future
It was with Corporate Raider and it was my first attempt at breeding. Was stoked when he won, since the horse wasn't racing very well at the time. Also, a mud-lark on a good track isn't suppose to win. Remember fading back to 9th with 300m to go than came storming home like a fast finisher to nose out Raven's horse at the wire.
It did set the blueprint for the future, since his sire was No Shadow, No Shadow was responsible for many of my Breeder Cup wins.
Q: You had to wait a full year to win your 2nd world cup the 2yo Breeders Sprint with Careless Jewel obviously you had to mix it up with the class one elite did that give you the confidence to know you could compete at that level as in those days their was a lot less cups
Felt like an eternity but was well worth the wait. Winning against the best in the game can't help but give you confidence. Back than there was a lot less cups, so you entered whenever you could just to gain experience and learn.
Q: Would it be fair to say a favourite of yours early on was the mare Cruizininyajammys as she won a sprint shield and supplied a springboard to future WC winners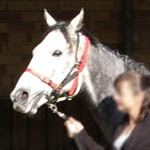 Cruizininyajammys will always be one of my favourites and she has a special place in my heart. She gave me my first Sprinter Shield Cup and had two foals, both fillies. Mystical Cruize and Carnival Cruize who are multiple cup winners. Also, she's the Grand Dam of multiple cup winner Dirty Old Man.
Q: Having touched on Cruizininyajammys, and you then mentioning her offspring Mystical Cruize, Carnival Cruize, and Dirty Old Man, the question is now, who is/was your favorite horse and why?
That's a tough one. Between the four of them they are responsible for nine world cups and four regional cups. But if I had to pick one I would say Mystical Cruize. She was the holder of 3 or 4 world records on a slow track and only finished out of the top 5 once. Beginning at a low rating she gave away about 7-10 points in ratings but still managed to win.
Q: I noted early on when I started that no weather no ground nor even a lack of overall rating was going to stop you entering world and regional cups. Why enter? was it wishful thinking or you really felt you could compete regardless of the obstacles
My philosophy is you can't win if you don't try. Most of my cup wins were with horses that didn't have a chance. Either because of ground or ratings. Bottom line is I like to race and won't back down from any challenge. I never expect to win so losing doesn't bother me.
Q: The Amethyst was just recently run and won by Captain Morgan, a mudlark on good ground for some that simply amazing and back up that no ground nor rating will deter you  your thoughts on running and the feeling from winning what to most looked like an impossible task (Watch Captain Morgan win the Amethyst Trophy) 
To be honest I was thinking of not entering him into the final due to the good track. But he was one of the true sprinters in the race and had the most sprint experience in the race. His ratings was about 7 points less than the highest rated horse so I was thinking even with the good track he had a chance. I changed his race instructions a bit to compensate for the good ground.
Winning the Amethyst with a mud-lark on a good track just proves that experience and race instructions can over come ratings.
Q: You have won nearly 30 world and regional cups and contributed in so many ways to the game, what do you consider your biggest achievement in the game
Most people are probably expecting me to say winning 20 world cups including 12 breeders cups. But I think my biggest achievement in the game is helping other players win world cups. A few players ask me for advice on their horses than used it to beat me in the finals. My horses finished second each time. There's no better feeling than helping someone else succeed.
For racing that's a tough one, but I would have to say No Shadow. He was the springboard to my success. His offspring is responsible for most of my cup wins. Without him none of this would have happened.
Q: The Triple Crown Series has been in place for awhile now initially you had doubts, has the passing of time changed your view or do you think the old format was better
I adapt quite easy to anything put before me, so either way is fine with me. I believe it would have been harder to win the Triple Crown with the old format, but with the new format the cups are more organized. Now you don't have to decide between which cup to enter, you can enter them all.
Finally I would like to thank you for your time and your honest answers I feel we have only touched on what is Dr Stables, Inca57, and your views on the game.
Their is so much more to talk about, be on the game or your stable, maybe we can revisit you at another time and touch bases
No problem and thank you. The pleasure is all mine.