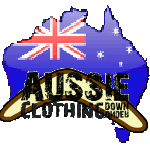 RECAP: ROUNDING OUT THE TOP 5
03/05/2016
Track Nuts presents the preview for the 13th running of the 6yo Aussie Clothing Down Under short. A race that has been won by some of the greatest stables in the game. We salute Manor Park, Riddley Walker Racing and the cup sponsor and dual winner of this classic Rafindale .
Season 34 sees another classy field with a mixture of the new and old.
Dixon Racing's results in recent times are outstanding. He is aiming for his 3rd World Cup for the season with Secret Pact, and for this talented mare and trainer the 2nd leg of the triple crown .
A stable that has been building for a while is Lisco Stable, and here he has a horse made to order for the ground, in Lisco Kid. This stallion clearly has a touch of class and may supply this talented trainer an over due win, to add to impressive wins in regionals. The Kid may well break the ice here.
Track King veteran Chrissya on the other hand is very experienced. The ever consistent trainer of Flying Spurs and previous victor of the Aussie short with Flying Harmony now brings in Flying Sienna, who ran the fastest time of the heats and could finish in the frame .
Elzulwini, a very astute trainer with multiple cup wins to his credit, any horse he enters, you can be sure they will run a mighty race. He is always one to watch at cup time .
The Judda Yard has a good eye for a good horse, and Rocky Boy is no different, well bred and he will give Judda another chance at victory, adding to his first cup winner "Fraggle Rock". The trainer is under no illusions that this will be a hard cup to win.
Spuraholics is no stranger to the training of a fine horse and Makeup Impasse is no different. By his cup winner Fliss Deer, this stalker may well get into position for a powerful finish.
Top breeder and consistent cup performer Moilets Surfer again delivers a nice type. Elda Protocol a solid performer without a win, may set a hot pace and prove hard to catch. She certainly adds a possible spanner in the works to the other runners, just by the way she will be run in this Aussie Short final  .
Seasoned stables Allison racing and Zanzibar yet to break the ice in world cups, regardless they keep on delivering competitive cup horses and persistence may pay off for both these fine trainers. They are capable of causing an upset on the day.
Strawberry Roam recently returned long time player, purchased Qurnat Seraph, no doubt will try and have his mare take up a good position and try and finish with a strong late run
6yo mare from Allison Racing, Career earnings: $961,738
Overall rating: Tremendous(71)

Form: 14,1,4,3,3

Last race:
Aussie Clothing Short Heat (1400m) at Sydney Harbour on 27-Feb-16 03:00 (1:22.591)
Allison  says:
-Foolish I am hoping has a good chance to place, she has been having issues with slow starts, so if she can get out quick she should place. I think it would take a miracle to beat Ped's Secret Pact. That horse is flying and already has 4 cups to its name.

6yo mare from Dixon Racing, Career earnings: $4,593,302
Overall rating: Tremendous(70) – Competitive

Form: 1,1,1,2,2

Last race:
Aussie Clothing Short Heat (1400m) at Sydney Harbour on 27-Feb-16 03:00 (1:21.703)
Pedantic says:
– Secret Pact is very fresh after an easy heat, if she jumps on terms she will be hard to beat with horses like Flying Sienna and Elda Protocol offering the biggest challenge. I can't afford to miss a beat and add Lisco Kid into the frame as well  – just another that will be ready to pounce if Pact fails.
6yo mare from flying spurs, Career earnings: $2,885,380
Overall rating: Grand(66) – Competitive

Form: 3,3,7,2,1

Last race:
Aussie Clothing Short Heat (1400m) at Sydney Harbour on 27-Feb-16 03:10 (1:21.012)
Chrissya  says:
-Had to change after the Sprintstar as my ex apprentice was not up to it and the change has worked well.
Flying Sienna ran a cracking heat  – a repeat and she's a contender.
Looking at the field can't help but notice Secret Pact went easy like others  – Lisco Kid had an apprentice, seems big upside and Elda Protocol is impressive, those are the main dangers.

6yo mare from MolietsSurfer, Career earnings: $403,055
Overall rating: Grand(66) – Needs space

Form: 3,8,6,3,3

Last race:
Aussie Clothing Short Heat (1400m) at Sydney Harbour on 27-Feb-16 03:10 (1:21.826)
Moilets  says:
– Had to change my jockey, didn't come together and have to stay out of the crowd to take advantage of the "Needs Space" trait, had too much traffic in the final quarter in my heat.
Was expecting a win in my heat. Marylouise Litterer will do the job this time.
Slow Poison and Secret Pact should be the hardest opponents when it stays good (we have to hope for). Not sure if Flying Sienna can repeat his top heat run.

6yo stallion from The Judda Yard, Career earnings: $1,403,629
Overall rating: Grand(69)

Form: 1,1,1,3,4

Last race:
Aussie Clothing Short Heat (1400m) at Sydney Harbour on 27-Feb-16 03:10 (1:21.965)
Judda  says:
– Rocky Boy will be trained to the minute, fit and well for the final. He had a plenty left in the tank from the heats. However, I think class will prevail and a place might be best.

6yo mare from Spuraholics, Career earnings: $2,304,211
Overall rating: Excellent(62) – Stalker

Form: 3,1,2,4,2

Spuraholics  says:
– Very happy with my girl and she always seems to be about the mark. Not sure if she can be close enough at the business end to win it but would be disappointed if she doesn't run top 5.
Very impressed with Flying Sienna last week as she just took off & kept going. If she does the same will be extremely hard to run down. Secret Pact and Slow Poison are well in the reckoning and l have a strong sense that Lisco Kid could well storm over the top of everyone. Looking forward to a great race!
6yo mare from Ezulwini, Career earnings: $1,741,760
Overall rating: Excellent(61) – Breakaway

Form: 1,1,1,2,1

Last race:
Aussie Clothing Short Heat (1400m) at Sydney Harbour on 27-Feb-16 03:00 (1:21.647)
Ezulwini  says:
– Clearly Slow Poison is an outsider but her win in the heat showed what she can do when it comes together. I hope she'll be challenging again in the final but she's up against some serious competition.
6yo stallion from Lisco Stables, Career earnings: $1,293,600
Overall rating: Grand(68) – Fast finisher

Form: 8,1,2,1,1

Last race:
Aussie Clothing Short Heat (1400m) at Sydney Harbour on 27-Feb-16 03:20 (1:22.227)
Lisco  says:
– This Saturday's Aussie Clothing Short looks extremely competitive and we are honored to have Lisco Kid run in the company of so many other tremendous 6-year olds.

The competition certainly looks stiff and we also entered a little late and don't have a great post position.

Interestingly, all the horses ran the exact same 1400m in the Semi-Final, so it's very interesting to compare times.

Six horses ran faster than Lisco Kid's time of 1:22.2, including Flying Sienna (1:21.0), Slow Poison (1:21.6), Secret Pact (1:21.7) as well as Makeup Impasse, Elda Protocol and Rocky Boy. Those numbers don't bode well for our stable, but we're encouraged by the fact that Lisco Kid was the only one of the fore-mentioned horses to run the Semi-Final with an APPRENTICE jockey.

We are hopeful that veteran jockey (and one of our apprentice graduates) Christa Camon can help Lisco Kid rise to the challenge presented by all the excellent horses in this race.
My conclusions are based on previous and current form and I think Secret Pact is the one to beat, with the minor money any one of five, so we may need to toss a coin.
My forced tips for the race and to give the kiss of death.
SECRET PACT
LISCO KID
FLYING SIENNA